January 2019 surrounds us with the gifts of an ever changing southern blue sky, to the hues of snow filled clouds... aaaahhhhh the excitement of winter weather! Children explore the changes from moment to moment and day to day. The windchime-like, falling, crystal icicles from the trees, as the sky opened up to blue yesterday was magical.
Windchime-like, Crystal Icicles
Aaaaaaaaah the excitement of winter weather!
At The Garden Schoolhouse, we happily give much time and awareness to nature - including our investigating, researching and observing of the habits of animals in winter. We read and speak of the creatures who migrate, hibernate or gather in preparation for the winter months.
Preparation for the winter months..
Students tend to the refilling of the bird feeders and even make their own out of pine cones to nourish our creatures with whom we share a habitat.Often, children will request to bring out binoculars to seek out our feathered friends.
Children watch the bird feeders from the window.
We are amply blessed with birds of all kinds who frequent our schoolyard. Yesterday, we shared the beautiful winter day with two red-shouldered hawks (which a student or two may refer to as Humpty Dumpty from their love of the story "After the Fall")
The river, made out of blue wooden blocks that previously paralleled the railroad tracks in the student-made replication of the city of Richmond, was re-established in a new setting. After reading poems from "The Forest has Eyes", students used the artwork within the book as the background to the wooden river and established around it woods and mountains.
As children created together, they told the story of how the bear will fill his belly by eating so many fish from the river and then travel far from the scene (all the way across the room) to his cave (a yellow beach bucket on its side) to hibernate. When asked why the cave was so far from the river, he responded 'Because it's noisy by the river and that would wake him up.'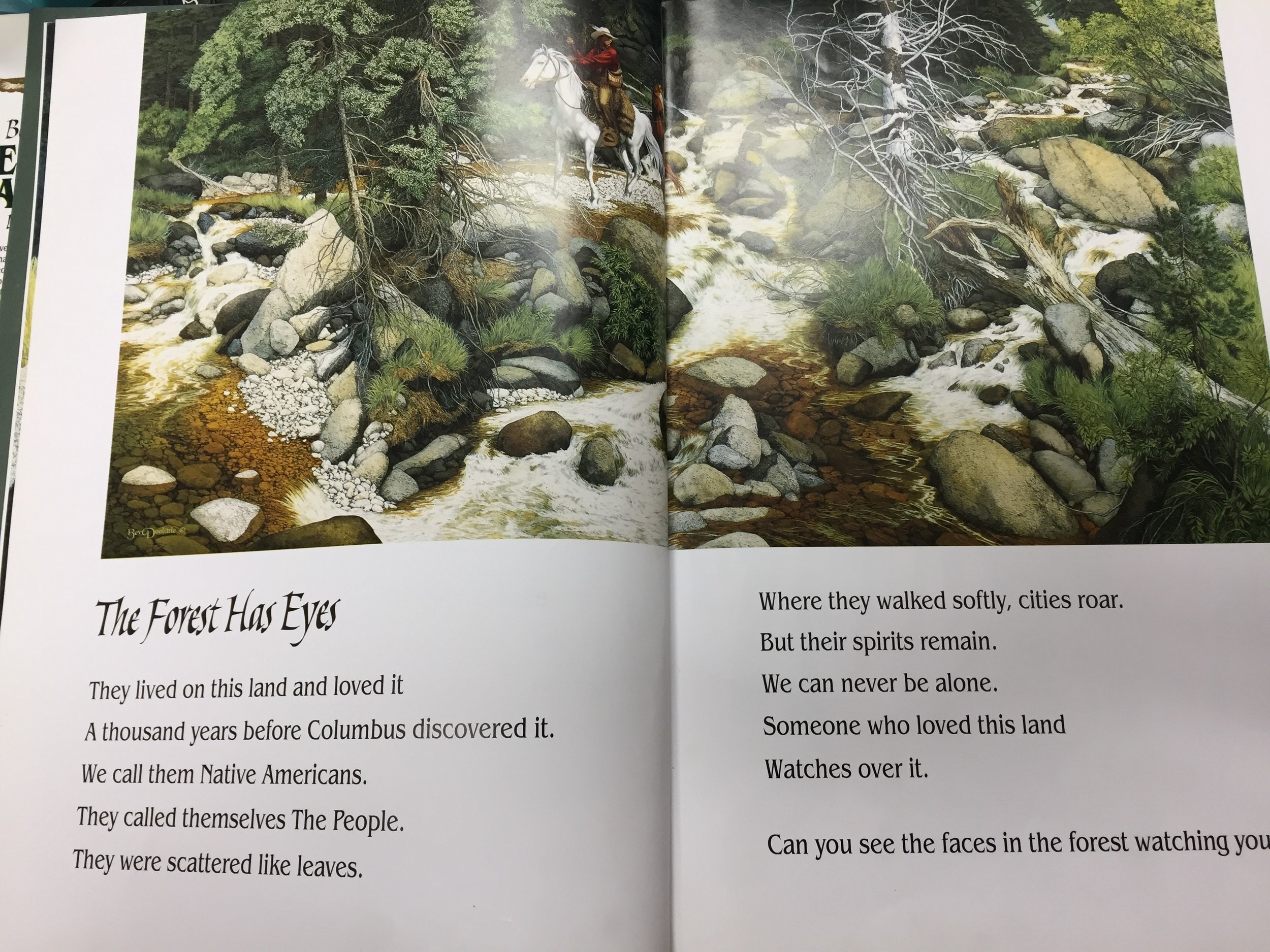 We also celebrate the fallen snow and appreciate the children in their winter gear of waterproof gloves, extra socks (amazing how the snow and rain finds the babes' toes!) and even snowpants! Chasing each other's footprints in the snow was a treat as was the rolling of the snow family bodies. We thank you for sharing this season and new year with us!